Top marks for top Restorative Dentistry student
For the second year running the UCL/Eastman Institute Certificate Prize giving was held on zoom. The 34 strong cohort attended a year-long Certificate programme for the Restorative Dental Practice MSc, whilst still working in practice – no mean feat as tutor Dr Touraj Nejatian commented:
"All the students have worked really hard, particularly given the added challenges of working and studying through a pandemic. Without exception there has been notable improvement in students case reporting, alongside a significant growth in their skills."
In a high achieving year, with four students coming very close, Noor Kamaureih beat off stiff competition to be named the best performing student for 2021. Deputy Programme Director Dr Neil Nathwani said Noor had consistently performed well across all elements of the programme but particularly in case reporting, clinical work and timed scenarios.
Congratulated by Prestige Dental Directors Paul Martin and Lucy Gabbitas, supporters of the programme since its inception over 25 years ago, they 'virtually' presented Noor with a Denar Mk11 Articulator in recognition of her achievement. The company are passionate about dental education, particularly hands-on learning and support some 100 programmes annually across the UK with an extensive stock of loan equipment. Their award-winning website also boasts online learning tools available to new and returning students alike, and can be checked out here www.prestige-dental.co.uk/resource-library/
Noor said "I am absolutely delighted to have won this award on a course where occlusion really changed my dentistry mindset. The opportunity to apply the knowledge you have gained, putting learning into practice is invaluable. This is definitely the least expected and best Christmas gift I will receive this year!"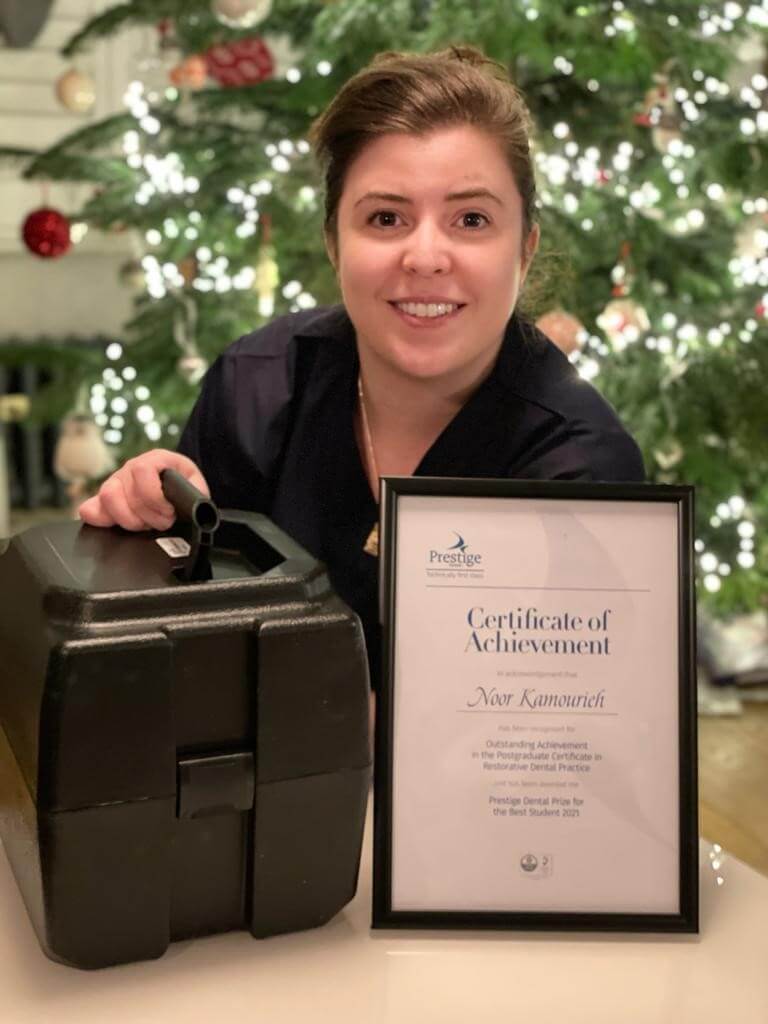 The next Certificate class commences in January 2022, whilst Noor and many of her classmates move onto the Diploma stage.
Copyright © Prestige Dental Products UK Ltd 2023
Registered in England, UK no. 2391338. VAT no. 5580015.