Teeth Trojans are champions again!
We're well known for our home-grown annual fund-raising charity event but on occasion, we also provide support for other causes in the dentistry world.
This was the case when Liverpool University Dental Hospital approached us about their upcoming rounders tournament in the NW NHS Games Rounders Champions 2023. Previous winners in 2022 they had a title to defend and wanted to look their best and we were proud to supply some colourful team colours. They said: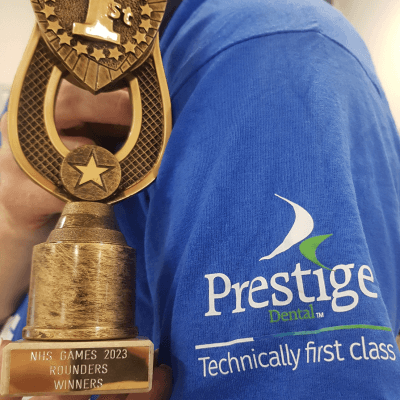 "Everyone flocked round when they arrived to get theirs, even non-player colleagues wanted one (they never got one). Sunday was such a fun day. We played 9 teams (including Army Medics) and still finished top on the day. Everyone is still celebrating around the hospital 🙂. Thank you again to Prestige for making us all look in unison!
We will be back next year for the NW Games 2024 – we may have to up our game!"
We wish Teeth Trojans every success for the future and trust their winning streak will continue!
Copyright © Prestige Dental Products UK Ltd 2023
Registered in England, UK no. 2391338. VAT no. 5580015.