Interpreting OccluSense recordings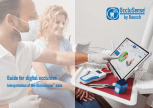 OccluSense® by Bausch enables every dentist to record occlusal situations and evaluate them step by step. This guide illustrates how to interpret the recordings properly, thereby creating the most accurate occlusion for each patient.
Download File
Copyright © Prestige Dental Products UK Ltd 2023
Registered in England, UK no. 2391338. VAT no. 5580015.