Fundraiser extraordinaire – another side to Lucy
Giving back has always been close to Prestige Director Lucy Gabbitas's heart. Losing her much loved Grandma to cancer first drew her attention to the amazing care and family support provided by Marie Curie and then, in particular, the Bradford Hospice where her Grandma was cared for in her final days. Born out of the desire to do something positive in her memory and, in recognition of that wonderful help, Lucy decided to hold an afternoon Tea Party as a fundraiser.
From those very humble beginning, one table of just 10 guests some 12 years ago, the Prestige Dental Blooming Great Tea Party has grown to be a very grand, annual affair supported by all the staff from Prestige, together with friends and family. Up to 2019 almost £12k had been raised, and the event flourished alongside its growing reputation, thanks in the main to Lucy's all-year-round planning and attention to detail. From building up an astonishing stock of china teacups, tea pots, tea plates and 3 tier cake stands to her enviable ability to create an event like a professional party planner, with thoughtful personal touches so each and every guest feels appreciated.
With Covid scuppering the planned event for 2020, 2021 needed to be bigger and better, especially as like many charities, the Bradford Hospice had become seriously underfunded during the pandemic. Usually held in the gardens of fellow Prestige Director, Paul Martin, the Tea Party was planned for August, and sold out in record time with some 100 guests expected.
Then potential disaster loomed – the great British weather conspired against us and heavy rain was forecast for the whole day. Determined not to cancel, Lucy set about searching for an undercover venue and just 24hours before the event, located and hired a church hall close to the original location. With a quickly assembled small group of helpers, Lucy then set about transporting everything to the new venue – remaining unflappable in face of a logistical nightmare. Tables, chairs, stands, teacloths, china, food, bunting, raffle prizes, places settings and everything else began to arrive at the new venue and with Lucy at the helm, things started to take shape. Not forgetting that in amongst all the guests had to be contacted to advise them of the change of venue and how to get there. The team finished at 9pm that night, returning first thing the next morning to continue set up for a 2pm start that day.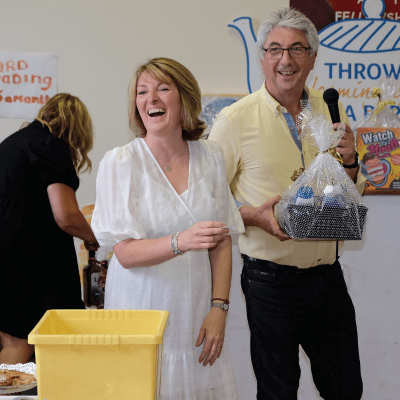 The forecast was for once correct, outside it poured down – but the final effect inside the last-minute venue was nothing short of absolutely stunning. Overflowing but only inside, was the mega cake stall, a bumper crop of raffle prizes, the welcome fizz, bunting, beautifully dressed tables, excited guests and a party atmosphere. A beautiful afternoon tea was served including wafer thin sandwiches, mini cream scones and delicious perfect cakes topped with edible flowers. Guests readily joined in all the party games, mobbed the cake stand, posed in the selfie frame and in general had a 'really good do!' So said 89-year-old Rita Cawley, affectionately known as 'Queen Bee', who is just one of the regulars and has never missed an event. Throughout the whole year she tirelessly raises funds for Marie Curie from her own home with small arts and crafts projects and considers the tea party the year's highlight – an absolute must to attend.
Summing up, Lucy said:
"We aimed for a bumper event this year and were thrilled to raise a mega £2,620! When I started this, I never imagined it could become such an event. So many people – staff, friends and family give up such a lot of their time with preparations starting months beforehand to help make it a success. We bake, craft items to sell, seek raffle prizes and never stop on the day – I continue to amazed and humbled by people's energy and generosity. My Grandma would be so proud."
Copyright © Prestige Dental Products UK Ltd 2023
Registered in England, UK no. 2391338. VAT no. 5580015.