Certified the best student!
Huge congratulations to Niktash Keyhani (Niki) who was recently awarded the Prestige Dental prize for the best performing student in the Certificate stage of the Restorative Dental Practice MSc at the Eastman Dental Institute. This year long programme is for students who remain working in practice alongside their studies.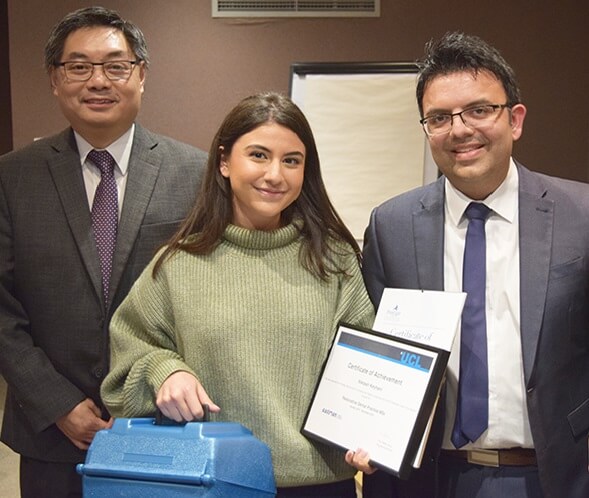 Niki was delighted with her Denar Mark II Articulator presented from Prestige Dental. 'This was such a huge surprise' she commented when we caught up with her. Niki went on to say how she had loved the course which had found just the right balance between lectures and hands-on sessions, whilst delivering a programme relevant to everyday dentistry. Her stand-out moment was with occlusion. Up to that point, Niki felt that occlusion had always been a bit of a mystery but following the Eastman treatment, she was now fully confident with the topic.
Niki also commented she was committed to continuing her studying, particularly with Eastman's and would 100% recommend the Institute to colleagues.
Deputy Programme Director and specialist prosthodontist Dr Neil Nathwani said: "Niki has been working consistently hard through the year. She is very motivated with a good clinical and academic skill set – the prize is thoroughly deserved, well done."
Long established as a world-leading, academic centre for postgraduate dentistry the Eastman Dental Institute bases itself in London but attracts students from far and wide. The Institute will shortly be moving to larger, more modern premises in the City and has currently attracted 38 students for the popular MSc in Restorative Dentistry. The full 3-year programme is part-time and enhances student's ability to provide high quality and comprehensive restorative management for patients. Students on the year-long Certificate programme remain working in practice and are taught with new materials and evidence-based techniques by highly recognised specialist in their field.
Copyright © Prestige Dental Products UK Ltd 2023
Registered in England, UK no. 2391338. VAT no. 5580015.