'Polite, calm, and considerate' are all words which help define what it means to be a gentleman – Larry Browne was all these and so much more as Paul Martin of Prestige Dental recalls. Having initially met up with Larry in the early 80's "Larry was always willing to help," comments Paul, "he really knew what was happening in the lab industry and always made time to help with great pointers and advice on precision attachments. This fuelled my own interest to the point that today I'm referred to in the trade as 'Mr Attachment' – a title which Larry must take some credit for."
Another element to Larry was his boundless generosity and enthusiasm for everything dental, as was evident when he visited Prestige Dental in 2018. His real interest in meeting the team and finding out more, made for a real fun day and helped us see the business from a different perspective, emphasising how far we had come in 30 years.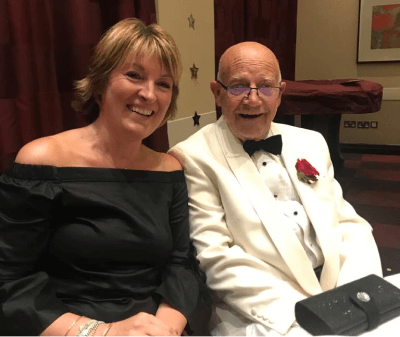 Larry continued to actively support good causes throughout his career, and the last time Prestige met up with him was at a charity fundraiser for Veterans Bite Back in Portsmouth last September. Despite serious family illness, he attended and was as entertaining as ever, lending his support to yet another good cause spawned by the industry he loved.
To say Larry will be missed throughout the lab industry is an understatement. At Prestige Dental we are indebted to him for his outstanding contributions, both professional and personal. RIP to a true gent.
Copyright © Prestige Dental Products UK Ltd 2023
Registered in England, UK no. 2391338. VAT no. 5580015.