A cautionary tale about recyling…
that ends in Superior Excellence award for Team Prestige!
Here at Prestige, we always strive to be as environmentally friendly as possible. One of our longstanding 'green' initiatives is to preserve and bring into work any packaging for goods we've received at home, to recycle for outgoing goods in the warehouse. The following little drama played out recently which really did made us smile – especially as we still put big smiles on our customers when appropriately rewarded!

MONDAY MORNING – today's delivery issues
To the individual who packaged our parcel.
When our parcel was delivered, I was overjoyed as I looked across the desk to see a beautiful large box decorated with pictures of a chocolate fondu! "fantastic" I thought. "Someone has bought us a chocolate fondu, perhaps head office?" I said to myself in a chipper tone.  The excitement grew, messages flying around the practice, spirits lifted all over. Could this be the greatest day in practice history, have Monday to Friday just turned into the best days of the week, will our lunchtimes now be spent sharing melted chocolaty goodness !?  The answer was no. It was all a trick, no chocolate fondu. Just the box. Our practice now calls October 30th "GREY MONDAY… the day that must not be named."
Thank you.
MONDAY AFTERNOON – re todays' delivery issues
Good afternoon Sophie (aka 'Gutted in Solihull') from the individual who packaged your parcel 😊.
I am so happy to hear that you were overjoyed on receiving your recent order from Prestige – only to be gutted on the realisation that the chocolate fondue on offer was snatched briskly away from you. I am sure you will make good use of your Denar Slidematic Facebow, however, I would not recommend trying to melt chocolate with this piece of equipment.
Please keep a look out for a UPS delivery that will be winging its way to you that will hopefully change your view on  "the day that must not be named (Grey Monday)". Thank you for making the whole office giggle – our company now calls October 31st "HAPPY MONDAY".
Kind regards – The Team @ Prestige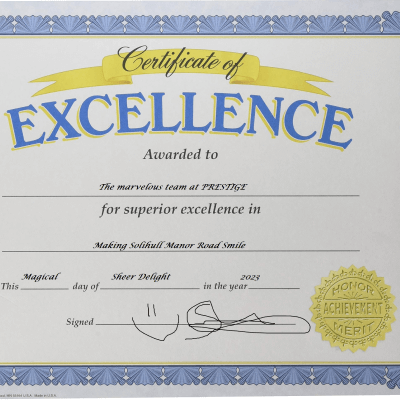 WEDNESDAY MORNING
Good Morning, The marvellous team at Prestige
Please see award attached and photo of me looking considerably happier than yesterday!  Thank you so much for making our day "Joyous Wednesday – November 1st" A day that will live rent free in our heads.
Thank you!!!! Have the best day everyone 😊

Copyright © Prestige Dental Products UK Ltd 2023
Registered in England, UK no. 2391338. VAT no. 5580015.